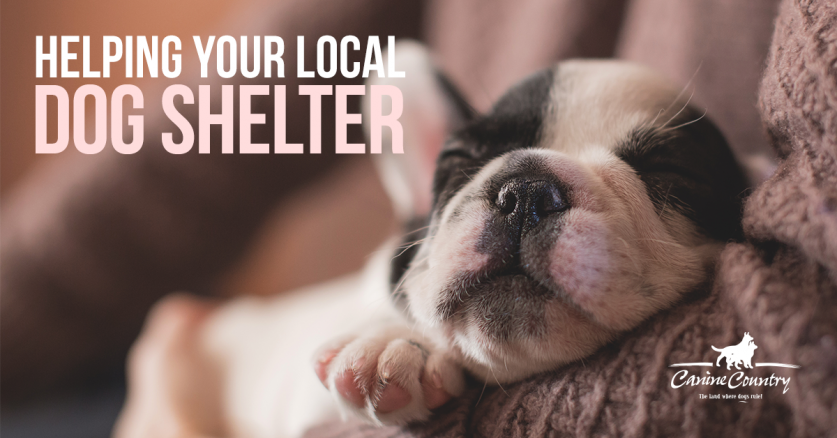 8 Ways You Can Help a Local Dog Shelter
Posted Oct 2, 2017 in Tips
If you have a dog that you rescued from a shelter, odds are you also want to give back to shelters. It can be hard to come up with ideas of ways to help your local dog shelter beyond just volunteering. They do need volunteers, but they also are a very busy place that needs help in many areas. Luckily, there are so many things you can do to help care for shelter animals in your area. Check out some creative ways to get involved and give back!
Use Your Car
One aspect many people forget about when thinking of the process of adoption is transportation. While some adopters may just drive to their shelter, other times the dog's new family is hours away. This is especially an issue in cities where public transit is the main transportation, since people in these cities can't always take their new pup on the bus with them. If you have some free time and also have a car, consider driving and donating your time in that way!
Use Your Talents
Everyone has a few special skills that can be put to use at animal shelters! Do you know how to sew? Call up your local shelter and ask if they need anything made, such as privacy curtains or beds. There are many tutorials on how make these items. If you have skills in design, coding, or social media, offer to assist the shelter with their website and social. At shelters, these items sometimes get left behind since things are so busy. However, they can be really helpful in getting dogs adopted, so they will probably love your help!
Photos
If you own a nice camera and love to take photos, offer to take photos for a shelter! Pictures are an extremely important part of a dog getting adopted (who does love to look at photos of the adoptable dogs?) so your work will be very helpful. If you don't have the time to photograph but still want to help out, donate an old camera if you have one and give them a little lesson on how to use it. They will greatly appreciate it.
Donate Your Stuff
You probably have plenty of old items around your home that you're not using. If you've got towels or sheets, donate them to the shelter so they can use them for bathing dogs, sleeping areas, etc. If you've got some of your pup's old beds, collars, or leashes you're not using anymore, give those as well. Shelters are always getting dogs that need homes- as well as these other necessities!
Buy New Items
If you're feeling really generous, you can also buy new items to donate. Call ahead and ask what specifically they need at their location. Whether it's leashes, food, cleaning supplies, beds, or grooming materials, you can use your time and money to pick up some things for these dogs.
Use Your Social Presence
If you have any social media pages, use them to get people informed about shelters or adoption of dogs in general. You can share your specific shelter's tweets and post about new dogs in the shelter or local fundraising efforts for the area. This will help more dogs get adopted and hopefully spread the word about the shelter to others!
Help With Repairs
If you have any experience with handy work or home repairs, ask your shelter if there's anything they need done. They may mean a simple wall that needs painting or a more complicated furniture building. Get your tools out and get working!
Foster
One way that you can really give back your time and space is by fostering! If you've got the room in your home and your current animals are pretty welcoming, bring an animal into your home for a couple days/weeks. Depending on the shelter, they usually cover the costs of food/medical, or at least some of them.
Hopefully you're feeling inspired to get out and give back to your community. Good luck!