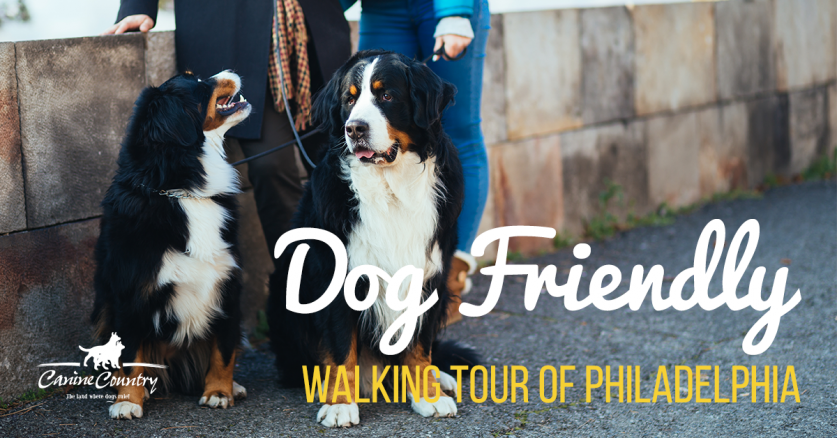 Dog Friendly Walking Tour of Philadelphia
Posted Jun 16, 2017 in Fun Dog Stuff
Looking for a fun outing that both you and your dog will enjoy in the beautiful summer weather? We've got the perfect thing for you! Philadelphia has so many amazing sights to see. There are endless activities to enjoy. But you want to make sure your dog can have a good time too! We've planned the perfect walking tour for you and your pup to do. Whether it is your first time in Philly or you're a local, this tour will show you many of the famous spaces across the city and allow you to soak in the beauty of this historical and entertaining place! Don't forget your walking shoes!
Franklin Square
The first place to start your tour is in Franklin Square. Not only does it have a great location between China Town and Independence National Historical Park, but it also has great parking for easy access. This area of Philly has a different atmosphere because of the many neighborhoods in proximity. We recommend you hit up a cafe for coffee, check out the fountain, or even play a round at the miniature golf course.
Independence Mall
When you leave Franklin Square, head south on 6th Street. You'll arrive at Independence Mall, where many historic sights sit. The Liberty Bell, Independence Hall, and Congress Hall all are on this stretch of land. If you're a history buff, this is the place to be! Dogs aren't allowed, but you can check out the museums and buildings from the outside and soak in the history around you! Take some photos and enjoy the walk!
Washington Square
After you leave the mall, walk down 6th Street to Washington Square. This tranquil and quite park is a perfect way to unwind from the touristy or busy areas. This area is peaceful, with lots of trees providing shade for you and your dog. Take a rest here and spend some quality time with your dog!
Locust Street
Leaving Washington Square, walk west on Locust Street to see Philly's beautiful and well known row homes. If you've worked up an appetite from all the walking, check out one of the many restaurants in the areas. Most restaurants have outdoor tables and seating that welcomes dogs.
Rittenhouse Square
After walking down Locust Street, you'll arrive at Rittenhouse Square. This square is one of the most popular areas and has many restaurants, stores, and much more for tourists and locals alike. If you want to bring your own food, find a nice spot to sit and have a picnic. Check out Metropolitan Bakery, which offers a homemade dog biscuit!
Fitlers Square and Schuylkill River Dog Park
When you leave Rittenhouse Square, go south on 19th Street, then west on Pine Street to Fitlers Square. Make sure you stay on the paved pathways with your dog. Enjoy the sculptures and fountains and maybe grab a bite to eat! Then you can head to 25th Street to the Schuylkill River Dog Park! Let your dog play with some other pups off leash and allow them to enjoy their time in the park.
Dilworth Park
Finish off the trip by heading to Dilworth Park! This park is in the heart of Philadelphia, where you can check out some sculptures, look at City Hall, and walk through the stone passages. If you have kids with you, they can run around in the fountains and explore the area too! There are always many dogs in the area that your dog can meet and play with!
Make sure you bring water on this excursion and be sure that your dog is healthy enough for this long of a walk. Have fun exploring and good luck!