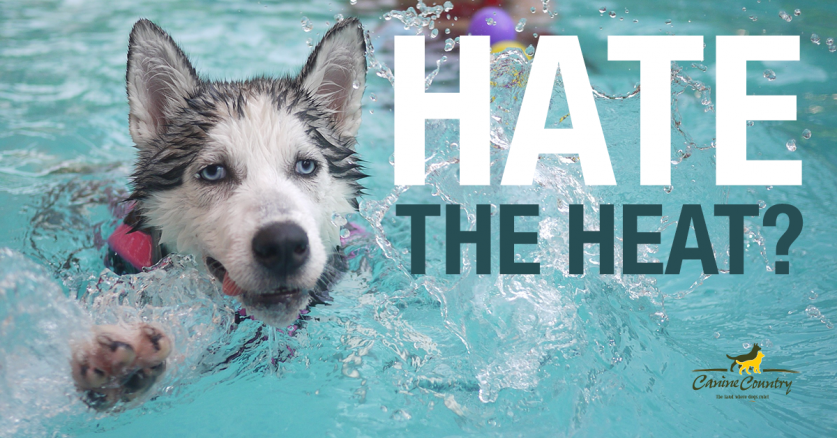 Does Your Dog Hate the Heat?
Posted Jun 2, 2017 in Care
Summer means more time outside playing with your dog in the warm weather! However, not all dogs love the heat. While it may feel nice to us to lay out in the sun and soak up some rays, our dog may not agree. Your dog also needs to stay protected from the damage the sunshine can cause. Here are some tips on how to keep your dog happy and cool this summer!
Cold Bandana or Towel
Your dog needs to stay cool and they can do this by having a wet towel or bandana around their neck. There are many options for how to do this. You could simply soak a towel in cold water and place it on your dog for instant relief. You can also invest in more complex technology, such as the Cooling Dog Collar Bandanas, that can keep your dog cool for hours.
Booties or Balm
If you take your dog on walks on asphalt or other hot surfaces, one of these is a must. Find dog boots that are thick and will protect from the heat, but are also very comfortable to your dog. If your dog really can't stand the boots, research the many different protective balms. Not only will it protect your dog's paws, but it also will sooth any pain they may already have. Either of these products will make your walk 10 times easier.
Water
Your dog obviously needs to stay hydrated in order to stay cool and happy! Always bring travel bowls or a water bottle with you to the park or on your adventure so your dog can easily get their water everywhere they go. There are many dog bowls that collapse, so you can easily slip it into a backpack or your summer bag.
Shade
There are many ways you can provide your pup with some shade on a hot day. Consider investing in a small doggie tent that you can bring anywhere with you. These tents easily can be thrown in your bag and set up when you arrive at your destination. It gives your dog a special place to cool down and get away from the chaos. If your dog is under 30 pounds, check out this canvas pet tote. Your dog can hop into this tote when they are feeling too hot and they will be cooled off and relived. If you don't want to buy one of these products, make sure there is always shade or an umbrella at the spot you'll be spending outdoor time.
Cooling Mat
Cooling mats are also a great way to provide your dog relief from the sun if they are outside for a long time. Perfect for the beach or a day in the park, these cooling mats will give your dog up to 3 hours of cooling and comfort. Roll it up and throw it in your bag for when you can tell your dog just can't handle the heat.
Sunscreen
While sunscreen won't necessarily cool down your dog or make them enjoy the heat any more, it is very important for their health. Find a gentle formula that is specifically made for dogs. Apply when you will be out in the sun on any spots where their skin is exposed. Whenever you put on sunscreen, you should be putting some on your dog as well.
Lakes and Pools
Another way to make the heat bearable for your pup is to take them out for some water fun! If you go to the lake, beach, or pool, take your dog along. Safety comes first, so make sure your dog is capable of swimming or only putting their paws in. Always be with your dog and keep eyes on them at all times. Bring fun toys or play water sports with your dog to cool them down and have some fun.
Safety
The summer can be dangerous for dogs. Never leave your dog in the car, not even for a minute. If it's over 85 degrees, don't bring your dog out for the whole day. While we may love laying in the sun, they can become overheated. Don't exercise too much or in the peak heat of the day. Instead do something more fun or laid back in the cooler times, like later at night.
While these tips might not make your dog love the heat, it will definitely make it more fun and safe for them. Always listen to your dog's body language and know when they need to go inside and cool off. Happy summer!