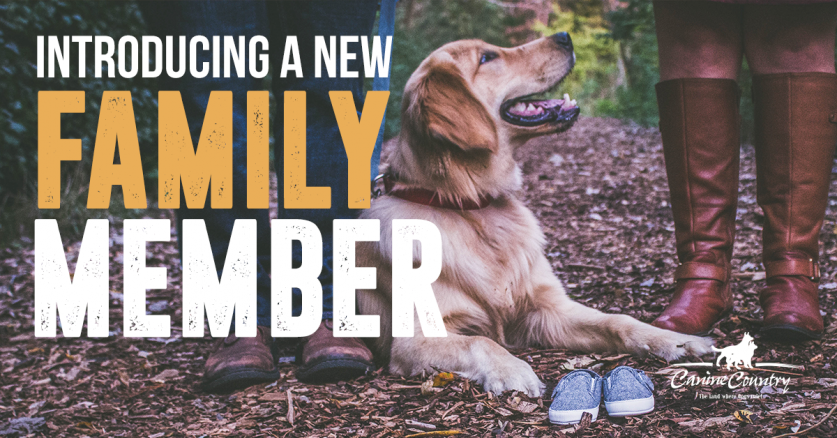 Introducing Your Dog to a New Family Member
Posted Nov 2, 2017 in Tips
Bringing home your new baby or a new puppy is a super exciting and wonderful experience. You and your family have been waiting for this new member, and now you're ready to have them in your lives. While this time period is an amazing experience, it can also be stressful. Specifically it can be more stressful if you have other members of the family, such as your pup, to worry about. This experience is not only a huge transition for you, but it is also a big transition for your dog. They will definitely notice someone new is in the home and also that they are probably getting a little less attention. To make everything go smoothly, here are few things you can do to make your dog better prepared.
Small Changes
Having a new family member in the home is a big shock to your dog. Because of this, you'll want to make gradual changes so it is not one, huge difference at one time. When you know you're expecting a baby or if you have plans to get a new pet, start off by slowly making something changes. Spend a little less time with your dog and gradually increase it as you get closer to bringing home your baby or new pet. They will not be completely caught off guard when you cut off a big chunk of attention later on.
Spaying/Neutering
When you are in this large life transitioning, having your dog be very calm helps everything be more manageable. One way to help your dog have a better temperament is to have your dog get spayed or neutered if they are not already. Dogs that are spayed or neutered are generally calmer than dogs that are not.
Training
Another way to ensure your dog is behaving at their best is to make sure they are properly trained. If your dog has any major behavior issues, such as separation anxiety or aggression problems, you need to take care of them before your baby or new pet arrives. You don't want to be attempting to correct these issues while also taking care of a new born or puppy. Sign up for some classes or dog training camps long before your new member is home.
Get Them Familiar
One key to having your dog react positively to a new dog or baby is to get them familiar with them. If you have family or friends with children, have them come over to your home so your dog can see and interact with them beforehand. They won't be as nervous or stressed when your baby arrives. You can also get your dog familiar with scents of a baby, such as baby powder or baby oil, so they are not shocked by these smells. Putting these scents on your hands or around your house will also help the transition.
How to Introduce Them
Your dog may feel threatened and react defensively when a new family member or baby is in their home. If you're bringing home a new dog, take them to a neutral site. One choice is a dog park you haven't been to before. Then your dog will not feel as threatened since it isn't their "territory." With babies, just be sure to speak in a calm voice and keep your dog at a distance at first. Give them treats if they react calmly and stay under control. Always supervise and pay attention to your dog's body language. If they seem upset or aggressive, remove your dog from the situation
Overall, planning ahead and making some special accommodations before your new family member arrives will make the process run smoothly! Good luck!
---
Related Posts