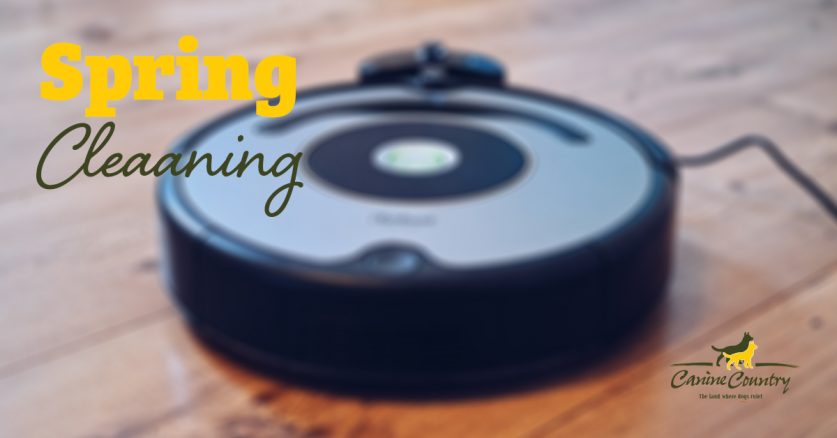 Spring Cleaning Tips for Dog Homes
Posted Apr 12, 2018 in Tips
April and warm weather is finally here, which means more playtime and time outdoors with your dog. While spring does meaning getting to enjoy the great weather, it also means it that time of year to get down to business and do some spring cleaning. After the winter months with our dogs cooped up, there is plenty of cleaning to be done around a dog-filled home. There are some extra things dog owners have to do to keep their homes as clean as possible. Here are some of our tips for spring cleaning!
Clean the Dog Beds
You probably forgot about how much dirt and grime your dog's bed has accumulated over the past couple months. Be sure to wash this regularly to get rid of all this stuff so your pup can sleep comfortably. To ensure that you can keep the bed clean, choose a bed with a removable fabric cover that you can just throw into the wash somewhat regularly. In between washes, you can vacuum the bed to get up hair and dirt. If the base of your bed is washable, throw it in the wash with a mild detergent and a cup of baking soda to get rid of the doggy odor.
Clean Their Collar
The collar is another item that you probably forgot needed to be cleaned. To avoid damaging the collar, take some dog shampoo and hot water and put it into a bowl. Then let the collar soak for around 15 minutes. Rub the collar against itself to get out any more stubborn dirt. Hang it to try after!
Vacuum and Clean Up Hair
If your dog sheds, dog hair is probably literally everywhere in your house. Start by vacuuming all the floors and couches possible. Vacuuming regularly helps you avoid having a lot of hair build up and having a big mess on your hands. Invest in a good vacuum so that you don't have to worry about it breaking on you. For furniture, drapes or other fabrics that you can't vacuum, use a slightly damp rubber glove on your hand. Sweep the fabric with this hand and the hair will clump up and be easy to grab.
Clean All Their Toys
To keep your pup's toys in good shape and also get rid of the many germs, it is important to clean them. For fabric based or softer toys, pop them into the washing machine with dog-safe detergent. If you have a garment bag, this will keep them from ripping. You can dry them on a line or in a pillowcase in the dryer. For the plastic or hard toys, create a solution of half water, half vinegar. Put all the toys in the sink and use the solution and a sponge to clean them well.
Fix Up Your Yard
Spring cleaning also means some spring planting. There are a couple things you can do to keep your dog safe and happy in the yard. If your dog loves to dig in the dirt, try to have toys specifically for using outside. This will give your pup something to do, and will avoid them digging in the dirt or mud. This also stops your pup from tracking in dirt to the home. You also should be aware of what outdoors plants and fertilizers can be dangerous to dogs. Be aware of what in your garden can cause problems for dogs and make adjustments to your yard based on this.
Hopefully these tips helped you get inspired to start your spring cleaning! Good luck!