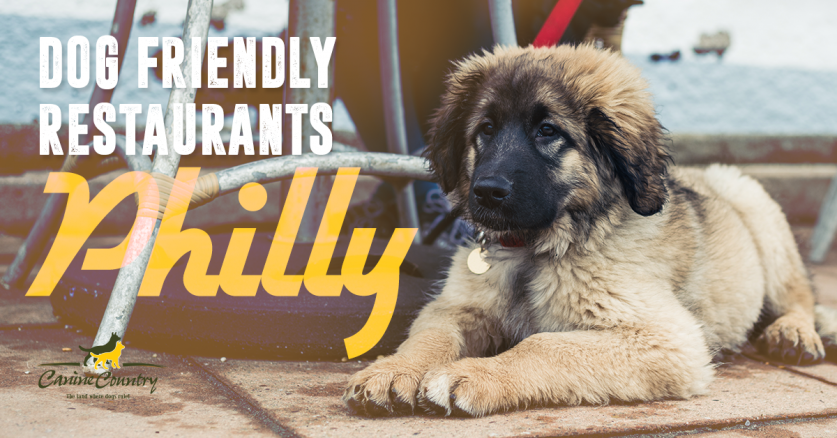 Dog Friendly Restaurants Philadelphia
Posted Jul 28, 2017 in Fun Dog Stuff
Going out to eat is something almost everyone looks forward to! Enjoying a great meal without having to worry about cooking or cleaning is a great way to kick back and relax. However, when you go out to eat you may have to leave your furry friend at home. Luckily, more and more restaurants are becoming more dog friendly and offering special seating for you and your pup. With summertime in full swing, the warm weather also opens up opportunities to bring your dog to a great place with outdoor seating options. Check out some of the best dog friendly restaurants in the Philadelphia area and all they have to offer!
Rouge
Address: 205 S. 18th Street
If you're looking for a more upscale option for food, but still want to bring your pup along, Rouge is the place for you. You can enjoy a variety of options, from seafood to burgers, while your dog dives into their own meal of treats. Rouge also has water bowls so your dog can stay hydrated and happy!
Check out their site for hours and menus here!
Square 1682
Address: 121 S. 17th Street
If you're looking for a brunch option to bring your four-legged friend along to, you have to go to Square 1682 at the Hotel Palomar Philadelphia. In the summer, this restaurant hosts a BYOD (Bring Your Own Dog) brunch that raises money for PA SPCA. You can dig into your brunch while your dog nibbles on their own special dishes, including Blue Buffalo Eggs & Taters, Doggy Dirty Rice, or a Peanut Butter Biscuit treat. You can sit on the patio and enjoy the weather- we guarantee everyone in your party will be happy. The next dates for BYOD Brunch are Sunday, August 20 and Sunday, September 17.
Check out more info on the BYOD Brunch and the money raised or look at Square 1682's other menus!
White Dog Cafe
Address: 3420 Sansom Street, University City
As the name suggests, this is great place to bring your dog to grab some grub and relax outside with your pup. Your dog can observe the students from surrounding colleges University of Pennsylvania and Drexel University, while also staying cool with a water bowl. White Dog Cafe's menu consists of contemporary American Cuisine that is committed to the farm to table philosophy. No need to sacrifice great food for dog friendly atmosphere at this restaurant!
Take a look a the White Dog Cafe's website for menus and other locations!
Paradiso
Address: 1627 E Passyunk Avenue
Craving Italian food, but can't find a place where you can bring your pup along? Paradiso is your new go to for Italian that is inviting for dogs. This place not only has a sophisticated and inviting atmosphere, but gives your dog a water bowl as well. The outdoor seating and delicious food gives you the best of both worlds.
Check out their site to look at the impressive menus and amazing cuisine at Paradiso!
Let us know which restaurants are your favorite to bring your pup along to!