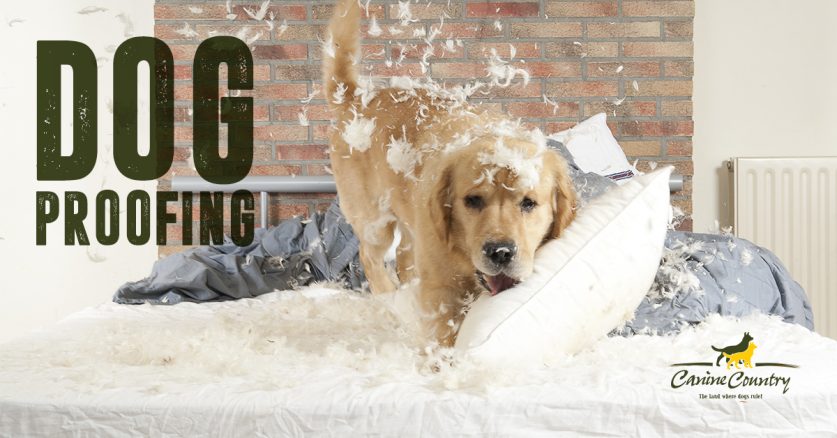 Dog Proofing Your Home
Posted Mar 16, 2018 in Tips
All of us pet owners know how hard it is to keep a house dog proof. From cleaning supplies to plants, there are a lot of different things that could harm your dog around your home. Especially when you have a puppy, it can be hard to not get nervous about every little thing. While there are definitely things you need to be aware of, you don't have to drive yourself crazy. Many dangerous spots in your home, your dog will ignore or they are just easy fixes. A lot of dog-proofing is common sense or quick things you can do in no time. Here are some tips for dog-proofing every room in your home this spring!
Kitchen
The number one thing in the kitchen that is a danger to your dog is food. There are a variety of human foods that can cause a pup serious harm, from raisins to chocolate. Know these foods very and be sure to keep them out of reach from your dog. Sweep your floors to avoid your dog eating anything that may spill. If you want to install a gate or door that keeps your dog out of the kitchen during cooking time, this is a great option. Also be aware of knives and small pieces of plastic that your dog could encounter.
Bathrooms
Obviously detergents, bleach, vitamins, medications, and other household bathroom items can be dangerous if your pup gets into them. Be sure they are secure in a high cabinet or behind a door that your dog can't open. Toilet water all isn't great for pets to drink if you are using toilet cleaners that contain toxins.
Living Room
In your living room, be sure you're picking up any small toys or other choking hazards off the floor. Your dog could put anything in their mouth when you're not around, so be proactive in keeping the floors clean. Cords or wires can also electrocute a pup if they start to chew on them enough. A way to solve this problem is the cover them with proper tape or tuck them into something else. Fireplaces can also be a danger to dogs, so either switch to a fake or electric fireplace or keep your dog out of the room during the fire.
Garages
If you have a storage area, such as a garage or unfinished basement, be sure to pet-proof it. These spaces usually hold pesticides, gasoline, solvents, antifreeze, coolants and oils, all of which can be dangerous to dogs. Be sure to keep them in a closed space or up high. If you also have household work supplies like screws, nails, hammers, etc. be sure to keep them out of reach from your pup.
Yard
Don't forget about pet-proofing your yard! The yard holds a few items that can be dangerous. Be sure to check the plants you have and see if they are dangerous or poisonous to your dog. Many chemicals that you use on your yard like pesticides, some mulches, insecticides, fertilizers, etc. can make your dog sick. Keep them away from your pup and be cautious of your dog eating the grass if you're not sure what you've used on it.
Pools
In general, pools are relatively safe as long as you are always keeping an eye on your dog. Be sure your pool has steps so your dog can easily enter the pool. Pets can drown, even ones that are good swimmers, if you do not pay careful attention so never leave them unattended. If you are worried, put up some sort of gate or keep your dog inside when you can't be watchful. Also be aware of the chemicals in your room and if your dog is drinking the water.
It can be easy to get stressed about dog proofing your house! But with these tips, hopefully you can make some simple fixes to get your safe for your furry friend!