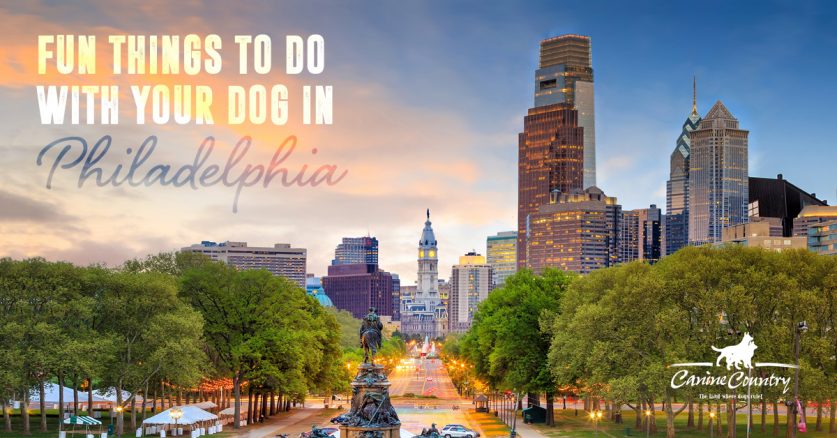 Fun Things to Do with Your Dog in Philadelphia
Posted Mar 1, 2018 in Fun Dog Stuff
Whether you've lived in Philadelphia for a long time or are a new resident, there is always more to learn about and new things to do. Philly is a city full of history, but it also has plenty of fun activities for you and your dog. No matter what your interests are, we can guarantee there is something new that you can make into an outing for your pup. When spring rolls around and the weather warms up, make it a goal to get outside and do a new fun activity. Here are some of our recommendations for things to try with your dog this spring!
Go To a New Park and Learn Some History
Since Philadelphia is a historical city, there are tons of historical parks that you and your dog can check out. Find some green space and let your dog enjoy the fresh air while you soak in all the history. Dogs aren't allowed inside many historic buildings, but you can still get a lot out of the experience from outside. On top of that, there are plenty of walking tours that you can take your dog on to learn more about the history of the city! You can even make up your own walking tour. You can also look into recreational parks and dog parks in the area, such as Curtis Dog Park, Schuylkill River Dog Park, Seger Dog Run, and Columbus Square Dog Park.
Try a New Restaurant
There are plenty of dog-friendly restaurants in the greater Philadelphia area. Whether you're looking for a casual pub or a more specific cuisine, there are so many different types of restaurants that allow dogs in their outdoor spaces, with some even letting dogs inside. No matter what you're craving, there's probably a place for you. Just be sure to research ahead of time and confirm that dogs are allowed!
Carriage Ride
Another great option for a new activity is to take a horse-drawn carriage around the city. Not only is this something fun and unique, but you also get a chance to see all the historical sites without having to walk your dog everywhere. You can find the carriages on Independence Mall between 5th and 6th Streets. Just be sure to ask the driver beforehand if you can bring your dog along, but many should be open to having them aboard!
Check out Philadelphia's Magic Gardens
If you're an art junkie, then Philadelphia's Magic Gardens is a great outing to plan with your pup. This indoor/outdoor art gallery has an interesting vibe, since it also has the feel of a garden mixed with a junkyard. But even if you're not that into art, it's fun to look at! The best part? Your dog is free to tag along and take in all the art with you.
Canoeing
If your pup loves the water and is pretty adventurous, you might want to plan a canoeing outing. This takes a little more planning since it is 45 minutes outside the city. But it is such a fun bonding experience for you and your dog. Rent a canoe and enjoy paddling down the river with your pup along for the ride.
Hopefully you now have a few more ideas for activities you and your pup can do together! Get out there and let us know fun things you like to do in Philly with your dog!